Precision Design Signs of The Woodlands designs custom signs for your business to help you stand out from the crowd.
Our team at Precision Design Signs prides itself on providing the best customer experience possible to our clients. Our staff is comprised of individuals eager to be a part of your successful team! We offer the highest quality and most professional service in the sign industry. We are committed to your business needs and are confident that we can meet and exceed your company expectations.
Submit below or call us today for a free quote! Need help? Drop by to brain storm ideas for your sign project. We really want to make buying signs easy, but effective for you.
Production Facility and Show Room
26210 Glen Loch Drive
The Woodlands, TX 77380
Phone: 281-364-8440
Cell: 832-465-2860
E-mail: pdsmith@precisiondesignsigns.com
8am to 5pm Monday through Friday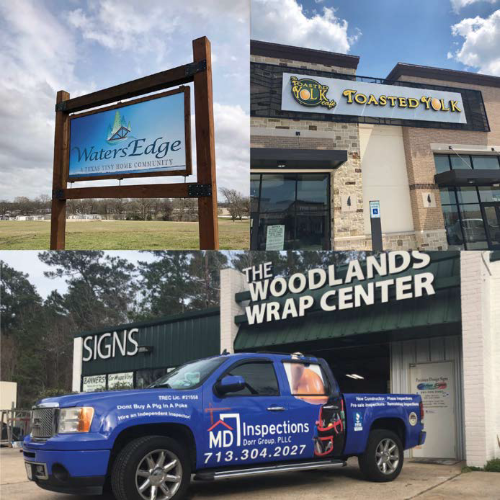 Precision Design Signs will strive to be a vital partner to our business, non-profit and individual clients to bring their custom signage ideals from concept to fulfillment in the most effective way possible. Precision Design Signs will invest in the training and development of its employees to the benefit of the company and its partners to effectively grow into the future. We will live by our values, have fun in our work, and be beneficial to our clients.
Our Values
* We will be honest and consistent with our customers. We will strive to be a company of high quality and prompt service.
*We will strive to achieve 100% customer satisfaction! However, we will learn from our mistakes.
*We will treat all others as we wish to be treated and all of our actions shall be beneficial to society and the environment.